Rack Mount Power Distribution Equipment
Rack Mount Power Distribution Equipment is a specialized unit designed to be mounted in a standard 19″ EIA (Electronic Industries Alliance) rack. This type of rack mounted power distribution equipment can have a rating from 30A(amp). single phase to 400A. three phase.
Rack Mount Equipment Enclosure or Panel Options
Enclosure or panel materials can be made as steel or aluminum. Connector types include Cam, Pin, Locking, Edison, 19-pin and Pin & Sleeve. Branch rated circuit breakers protect output circuits and Main breakers can be incorporated in the design of the units.
Case Mounted Power Distribution Equipment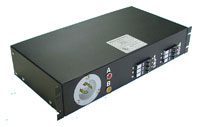 A touring case fitted with a set of EIA rails is the best way to provide rack mounted power distribution equipment for a portable unit. The case can be provided by Union Connector, or one can be shipped to our factory by the customer for installation of power distro equipment by our technicians. For permanent installations, power distribution units can be designed to fit in the space available in existing customer racks.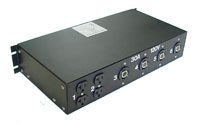 Like most Union Connector power distribution equipment, rack Mount distros equipment are custom designed to meet your needs. Call the factory for assistance in designing your rack mount power distribution equipment.
Download Rack Mount Power Distribution Literature
Contact Us About This Product
We would love to hear from you! Please fill out this form and we will get in touch with you shortly.